It is only when you start becoming a trainer when you start to realise the importance of narratives.
A good narrative is where my biggest disadvantage lies.
I don't have a good Cinderella story - it is public knowledge that I grew up on landed property. Unlike many motivational gurus and some financial advisors who want to rely on sob story to churn sales, I never had to experience my home electricity being cut off and neither was I forced to dumpster dive when I was a kid because my dad gambled away all my bursaries. The lack of a good narrative, unfortunately can, can create some kind of gap between me and potential customers.
Worse, I cannot rely on the excuse that I do not come from a rich family to explain why I am not a deca-millionaire yet. Also, all my problems are "first world problems". Describing issues I face will always risk being recast as whining.
( In fact, I will readily admit that I am not a deca-millionaire because I have some personal flaw that cannot be blamed on other people. Yeap, it's my bad ! )
Anyway, here are two nice narratives you can have :
a) The Conan Narrative
Would make a nice ITE ad
Conan was barely a thief and brigand until he rose through the ranks to become the Destroyer and King. This is a classic rags to riches story. The best narratives in Singapore follow the Conan storyline can sound like this :
You are first condemned by the education system and wind up in ITE/Poly/Private university.
Then you refused to submit to the labels from everyone around you making you a Byronic superhero entrepreneur.
Then you get into MLM/Internet Marketing/ Insurance sales/Value investing/Forex.
Everyone rejects you, but you strive forwards backed by the power of FAMILY and TEAMWORK.
You eat what you kill.
Then you become a millionaire.
Then you have drive a nice Lamborghini.
You are a winner. If the reader wants to be a winner, he buys something from you or pays for your course. Then they can be winners too !
b) The Elric Narrative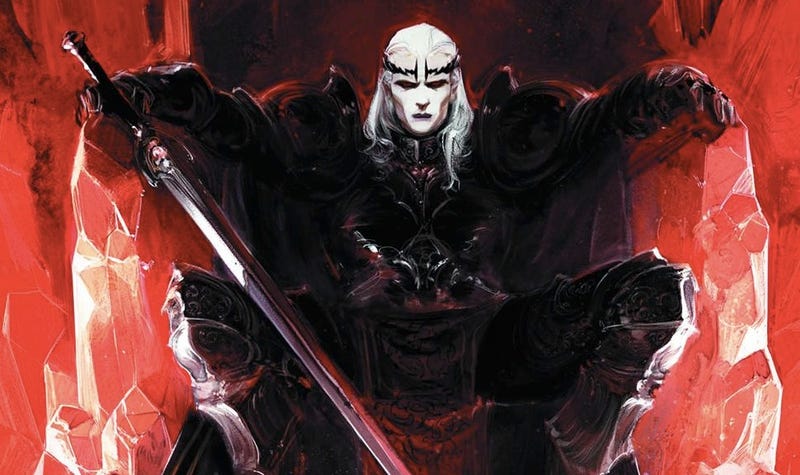 Elric of Melnibone is one of the Eternal Champions created by author Michael Moorcock. Elric is an Albino prince and through a series of tragic events, becomes manipulated by his sword Stormbringer to being an end to the current world so that a new world can be born.
Elric is the opposite of Conan. It is a story of how the mighty can fall and in return regain a sense of humanity at the end of the story arc. An Elric story in Singapore can look like this :
You are identified as being gifted when you are young child being able to read Russian Literature or solve the Byzantine General's problem at age 6.
As you get older, you start to rebel against the authorities because they won't let you do English Literature and Art History. Your parents say : either study Engineering, Medicine or Law or be forever branded as a disgrace to your family.
Being unable to study the subjects you like, you start taking drugs and engaging in premarital sex.
Your grades begin to suffer.
You are forced to study for O levels despite being an RI student. Your final O level aggregate is divisible by 32.
You get kicked out of the Golden Road and end up in a Polytechnic.
Relatives, waiting decades to pounce on your insufferable parents, have their day laughing at your academic fall on Chinese New Year.
By this time, now no one cares whether you read English Literature or not. Your folks are too afraid of you committing suicide.
Now you can finally study English Literature in some overseas 3rd Tier British Metropolitan university.
Today you give talks on New Age Therapy to help sexual abuse victim debunk common narratives in Singapore.
Today you are happy and centred, fully in control of your own being.
Sign up for your program to erase the pain of the past and Rise like a Phoenix !
Two narratives. One about a rise from the ashes. One about fall from great heights. Both immensely profitable from a trainer's perspective.
What lesson is there for investors ?
One possibility is this :
Either apply for leverage and hope for a big rise or short CFDs hoping for a massive fall.
Go loud, go big or go home.
While I will not question stable investment strategies, I can question the manhood of some folks who get excited over endowments that give north of 2% but take liquidity away for 3 years.
Yes, there are wusses who hold a massive war-chest and missed out on the recent REIT Rally. Yeah, the girlie men who get an orgasm and finger themselves because Singapore Savings Bonds return 2.1+% to investors.
They lack a narrative because they can neither win nor lose.
Why do I write a blog article to make fun of them ?
Simple.
I have balls. They don't.
Here's to all fans of the Game of Thrones Season 8 !